Revue de presse
Ars Technica:
"Do you miss Macpaint?  Wish you had something similar to Mspaint on your mac?
It looks like Romain Piveteau has come to your rescue with their release of LiveQuartz.
From the description on the its website, it appears  to be a very polished application.
It's got three localizations, is a universal binary, has layer support and full support for all CoreImage filters..."
Ars Technica, 08/23/2005
MacLife:
LiveQuartz has an article in the summer edition of MacLife, the german mac magazine.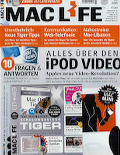 SVM Mac:
| | |
| --- | --- |
| | One of the very best french Mac magazine "SVM Mac" has rated LiveQuartz best free graphic software for MacOSX |
Pom Pom Pom Pom:
Here is a french podcast "Pom Pom Pom Pom" in which Romain Piveteau, author of these softwares, is interviewed :Pom Pom Pom Pom n°12